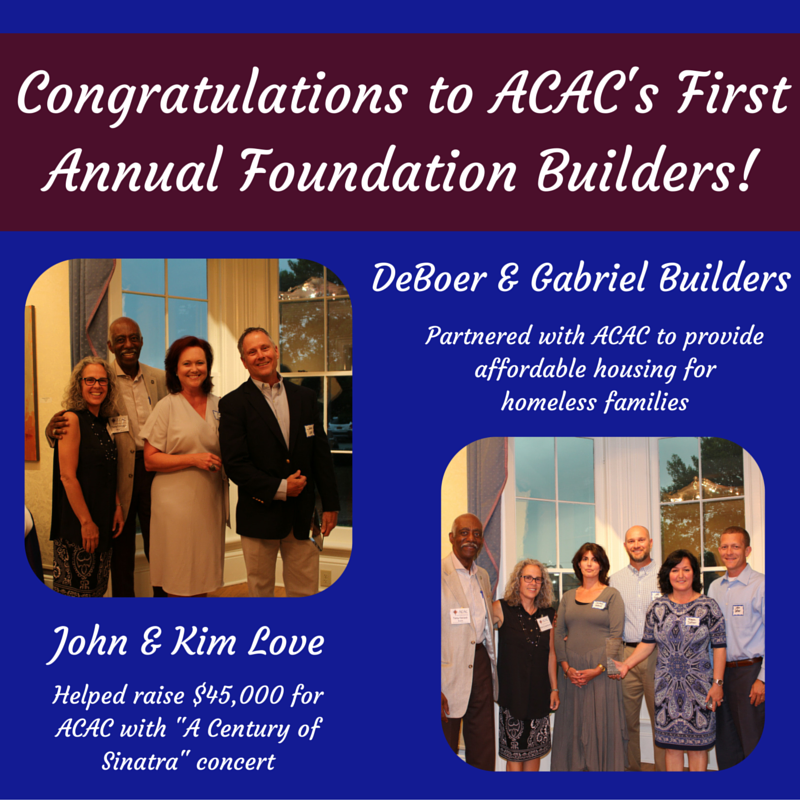 It was our honor to recognize two very valuable partnerships that have influenced ACAC for the better in the last year. The First Annual Foundation Builder Awards were presented on Thursday, April 28th to one set of individuals and one business.
Jason DeBoer and Jeff Gabriel of DeBoer & Gabriel Builders in Burlington have partnered with ACAC and United Way of Alamance County to provide affordable housing through ACAC's Rapid Rehousing program. Beginning in January of 2015, United Way of Alamance County, ACAC and DeBoer & Gabriel entered into a partnership to address the issue of affordable housing in Alamance County with an innovative solution. ACAC's Rapid Re-Housing (RRH) Program seeks to house individuals and families in stable, safe homes; assisting the new tenants in case management and rental assistance for the first four months. United Way of Alamance County seeks to serve as the supportive agency and help to fill the funding gap in this program.
The existing Rapid Re-Housing Program, a federally funded program that subsidizes rent for eligible homeless, called for an expansion that required community partnerships. Property owners Jason DeBoer and Jeff Gabriel joined an ongoing conversation on affordable housing, and together with ACAC created an innovative housing concept. A memorandum of understanding between DeBoer & Gabriel, ACAC, and United Way now exists to guarantee rent stabilization for qualified RRH clients. This agreement ensures that monthly rent will not increase as long as the RRH client is in a lease. Federal funding allows for ACAC to pay a predetermined number of months of fair market rent for each client in order to establish them as a tenant, after which the clients are responsible for that cost.
John and Kim Love of Burlington came to ACAC with a plan to celebrate the life of Frank Sinatra while raising money in the process. In partnership with Elon University, they orchestrated "A Century of Sinatra", an evening of music that raised over $45,000 for ACAC's work. Tickets and sponsorships for the December 13th concert were sold, and Elon's McCrary Theatre was packed. John Love and the Doug Burns Big Band put on a wonderful showcase of Sinatra's music that honored what would have been Frank's 100th birthday.
Thank you and congratulations to our first annual Foundation Builder Award winners!