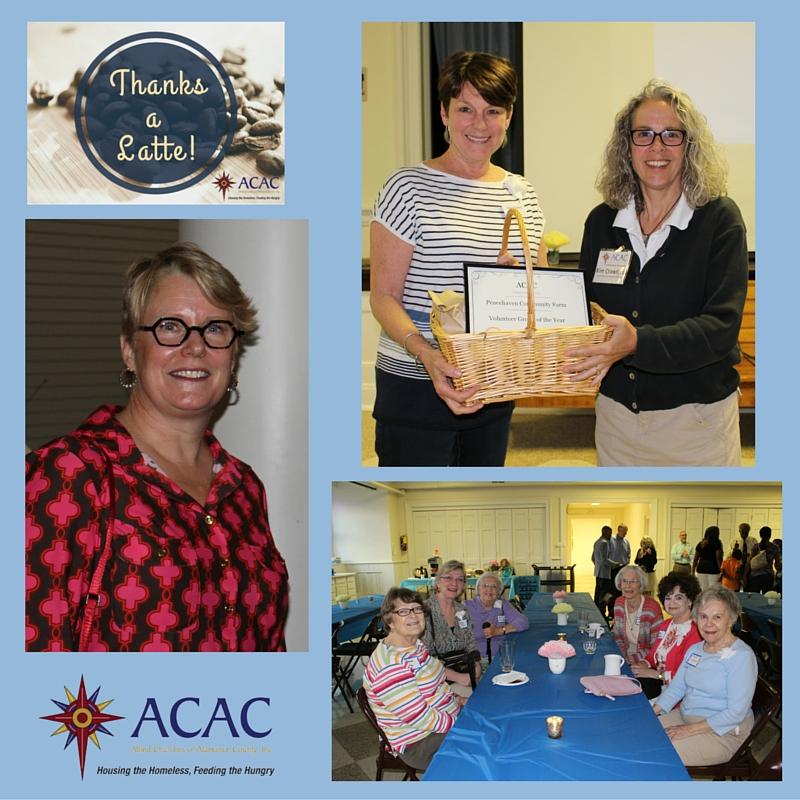 On the evening of April 21st, ACAC volunteers and staff joined together to celebrate the over 20,000 hours of service per year given in our kitchen, food pantry, shelter, and administrative offices. Guests were invited to enjoy coffee and desserts while staff and board members showed their appreciation with a "Thank You" video. BJ Bailey, a food pantry volunteer and board member, spoke about his experience serving here at ACAC. Volunteer Coordinator, Brittany Graybeal, gave reflections on the value of volunteers as advocates for the vulnerable neighbors that ACAC serves.
Brittany, along with ACAC staff members who nominated volunteers, presented awards for Volunteer Group of the year and Volunteer of the Year.
This year's Volunteer Group of the Year is Peacehaven Community Farm. Core members and resident assistants from Peacehaven have been volunteering with ACAC for over a year. They come to ACAC's shelter weekly to help with laundry, and have also helped with mailings and food sorting. They have even coordinated several successful food drives for ACAC. Thank you Peacehaven!
This year's Volunteer of the Year is Trina Holt. Trina is a regular volunteer in ACAC's food pantry. This year, Trina went above and beyond in sharing her talent of photography for the Portraits of Hope exhibit. Trina spent countless hours taking photos, listening to stories, framing, and even hanging the final exhibit at Elon. This exhibit is invaluable for ACAC as it shares the true stories of our neighbors in need. Thank you Trina for your service!
If you'd like to learn more about volunteering with ACAC, visit our Volunteer Alamance page here.